Fashion in Pakistan, Ivanka Trump in Ethiopia, ongoing protests in Sudan, Passover in Israel, a huge election in Indonesia, Holy Week celebrations in Spain, an aircraft with the world's longest wingspan, Notre-Dame cathedral ablaze in Paris, Easter preparations in Ukraine, performances at Coachella, spring skiing in Siberia, and much more.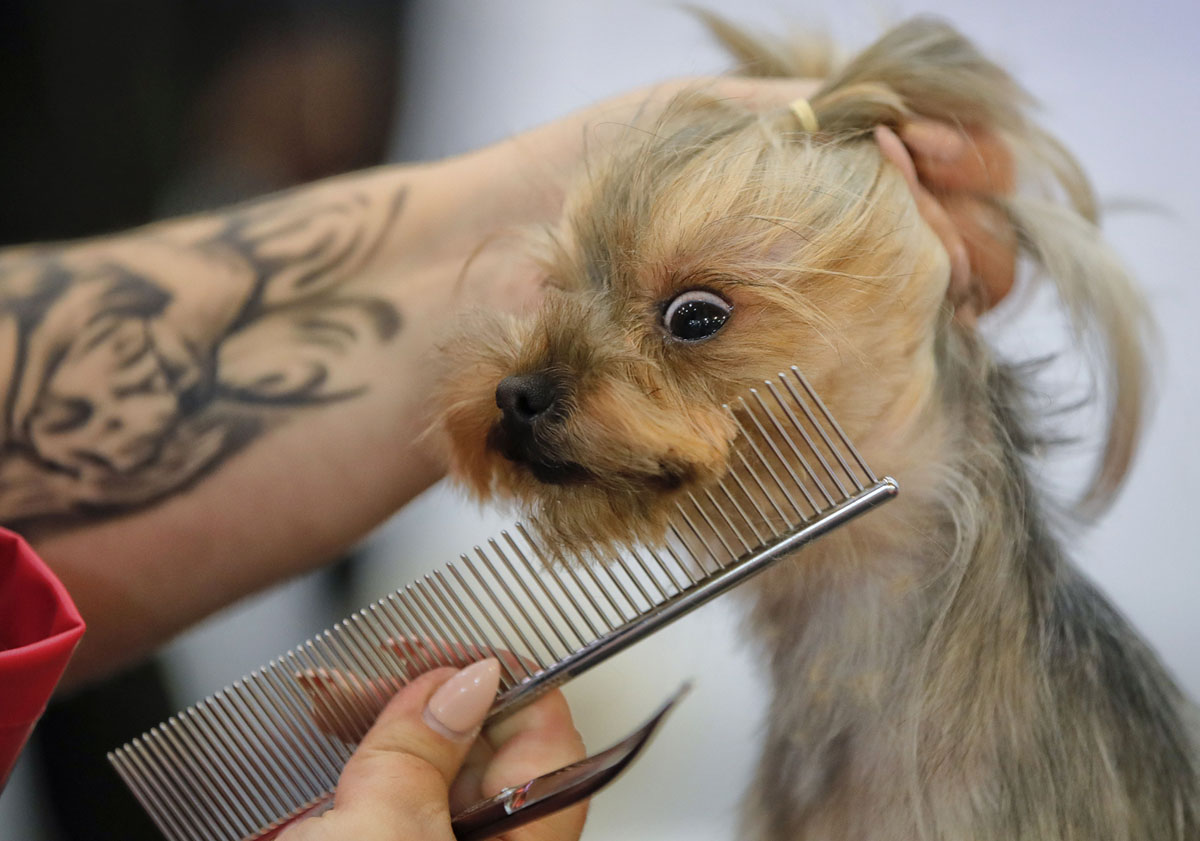 In the desert hills of China's Gansu province, a company called C-Space has just opened "Mars Base 1," a simulated Martian base of operations for future astronauts. Plans for the base, currently an educational facility, include expansion—it will become more of a tourist destination soon, with a space-themed hotel and restaurant. Photographers were on hand as some of the first student groups arrived to tour this vision of Mars in the China's Gobi desert.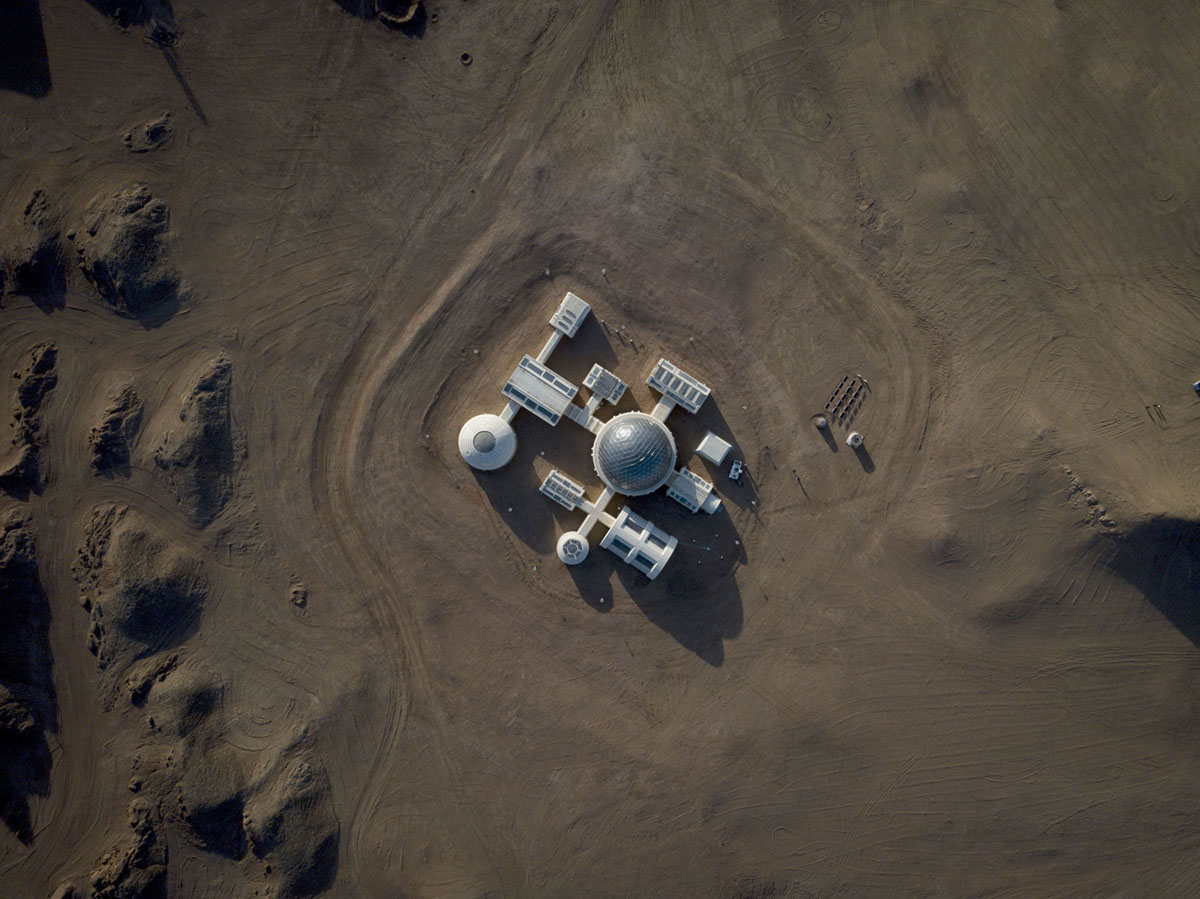 A day after the devastating blaze that destroyed the roof and spire of the Notre-Dame cathedral, investigators and photographers were able to get a first look at the damage inside, including the preservation of a number of valuable artifacts and features among piles of debris and a heavily damaged roof. Private citizens and companies in France have stepped forward, pledging hundreds of millions of euros to help restore the treasured building.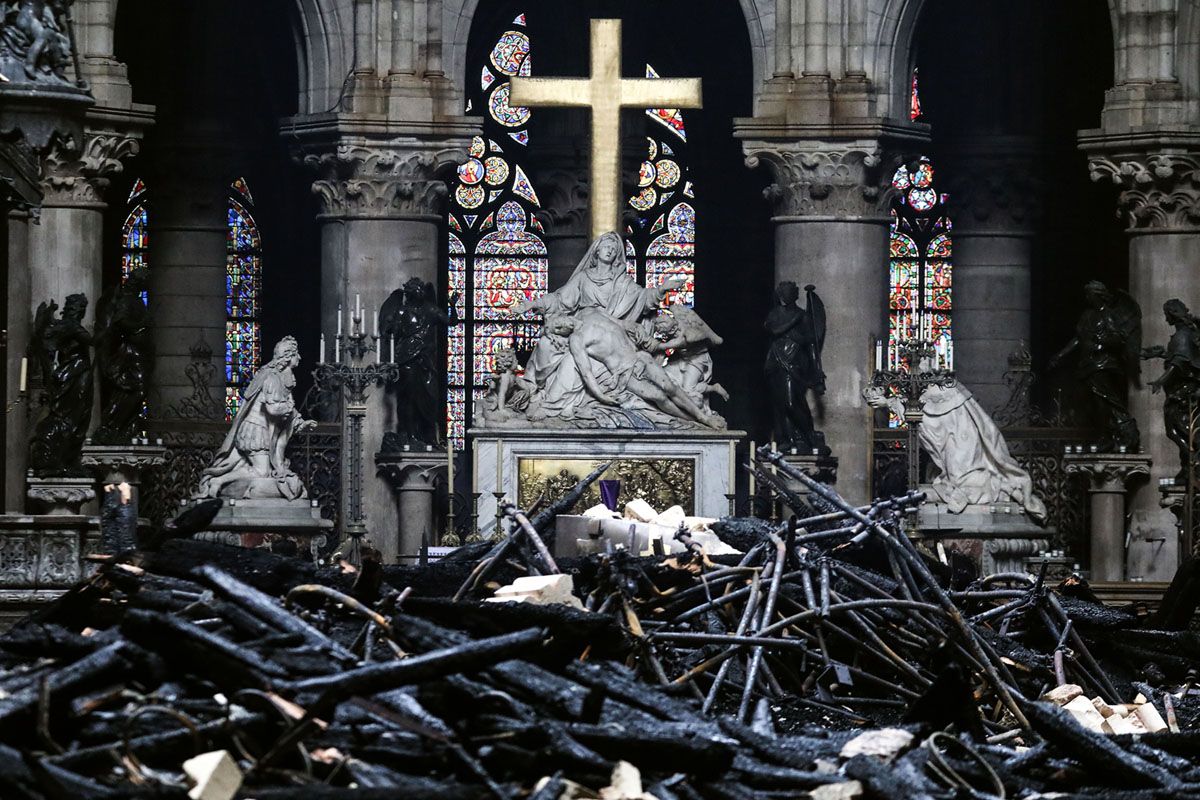 Earlier today, smoke was observed billowing from the landmark Notre-Dame Cathedral, in central Paris; it was undergoing renovation work. The smoke grew and was followed by flames, which consumed the roof and caused the central spire of the cathedral to collapse. The gothic cathedral is visited by millions of tourists and locals every year. Authorities report no injuries or deaths at the moment, and have tentatively linked the fire to the renovations, which were due to have been completed in 2022. Below, some images of the disaster, and a handful of images from inside Notre-Dame before the fire.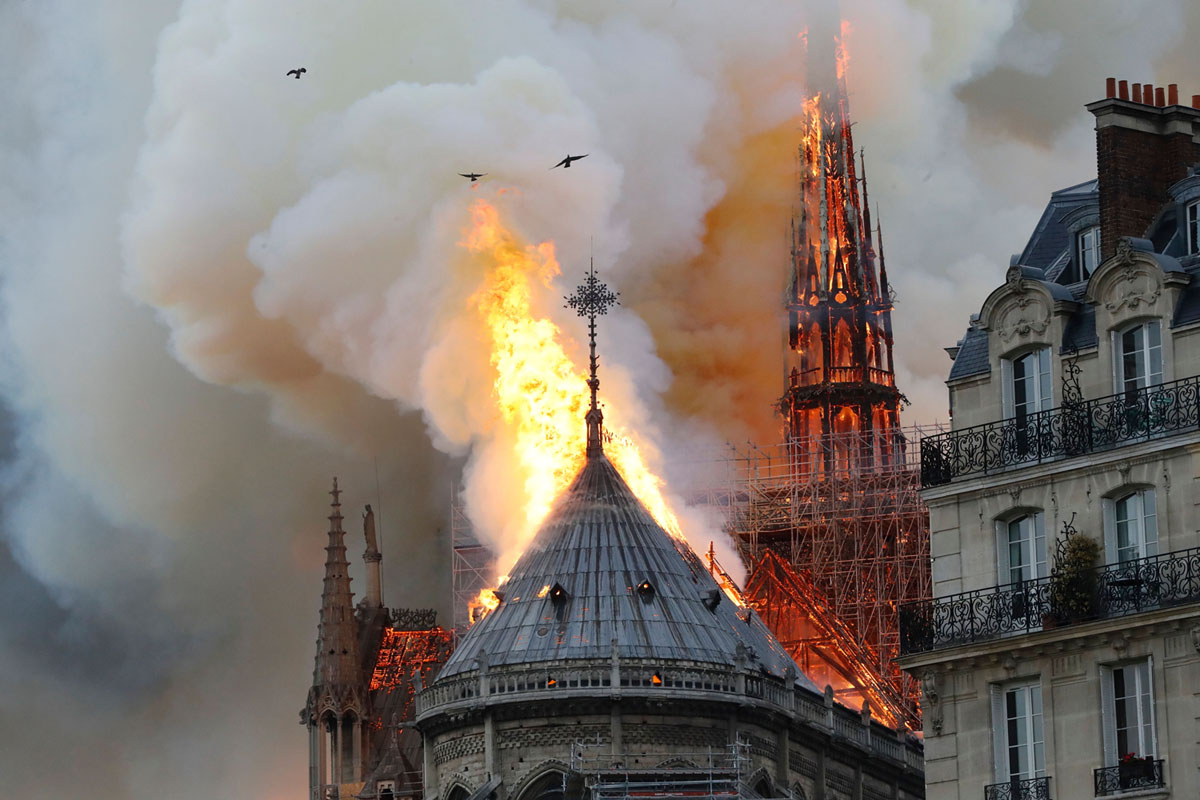 The arrest of Julian Assange in London, lioness relocation in the Gaza Strip, memorials to Nipsey Hussle in Los Angeles, a Wookiee and a Dalek in Scarborough, cyclone recovery in Mozambique, record flooding in Iran, a marathon in Vienna, Thailand's water festival, overfilled reservoirs in rain-soaked Lebanon and Iraq, and much more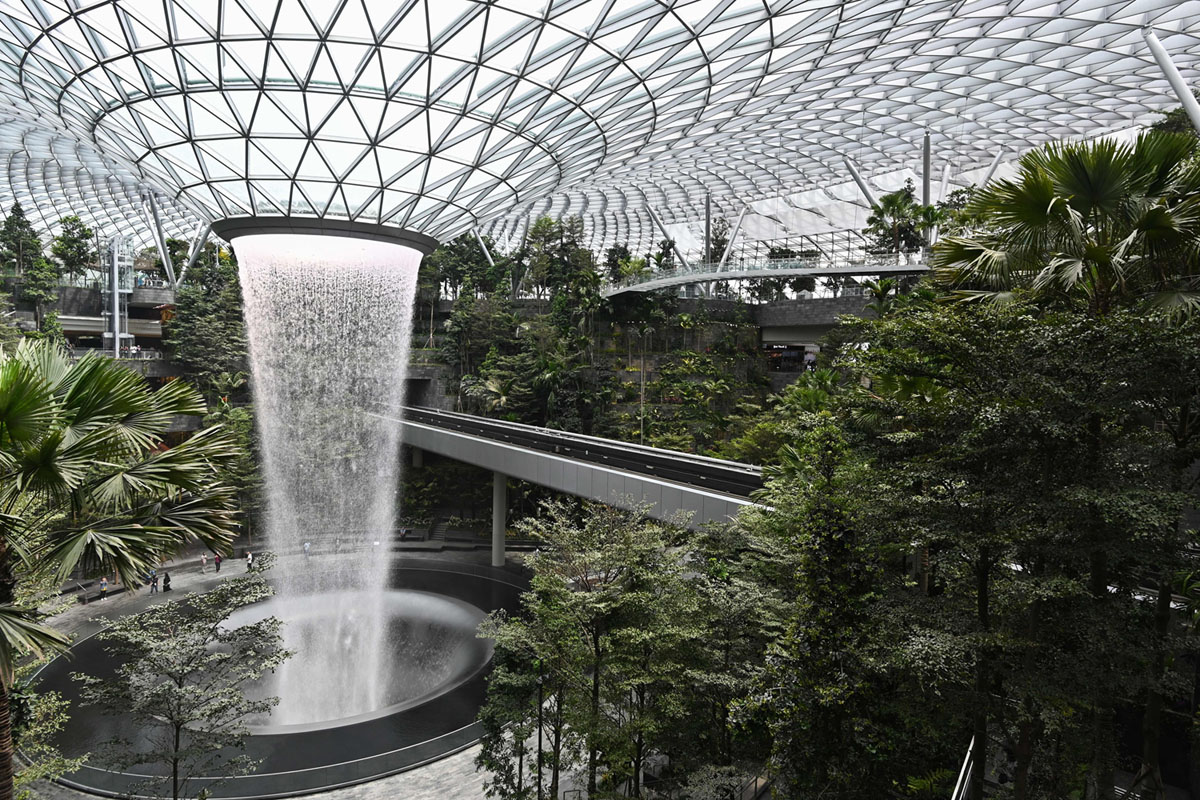 Anti-government protests in Sudan have built since the end of last year, with furious demonstrators calling for President Omar al-Bashir to step down. Sharply rising food prices and economic mismanagement have driven the recent uprisings against al-Bashir, who has been in power since 1989. Last weekend, a sit-in protest was organized in the capital city of Khartoum. It was met by attacks from some security forces—not the national army—which reportedly killed more than eight demonstrators. Thousands remained in place to continue the protest, and earlier today, Sudan's defense minister announced that al-Bashir had been detained and that a military council would take over for a transitional period. Protest organizers are now calling on their supporters to remain in the streets until power is handed over to a civilian government.
Mount Fanjing, or Fanjingshan, is part of the Wuling mountain range in southwestern China's Guizhou province. Named as a UNESCO World Heritage Site last year, the mountain is home to a conservation area, a nature reserve, and a number of Buddhist temples—it has been considered a sacred site for centuries. Two of these temples sit atop a lonely spire called the New Golden Summit, or Red Clouds Golden Summit, which rises more than 330 feet (100 meters) above the surrounding mountaintop. The Temple of the Buddha and Maitreya Temple are separated by a narrow gorge that visitors can cross via a short bridge.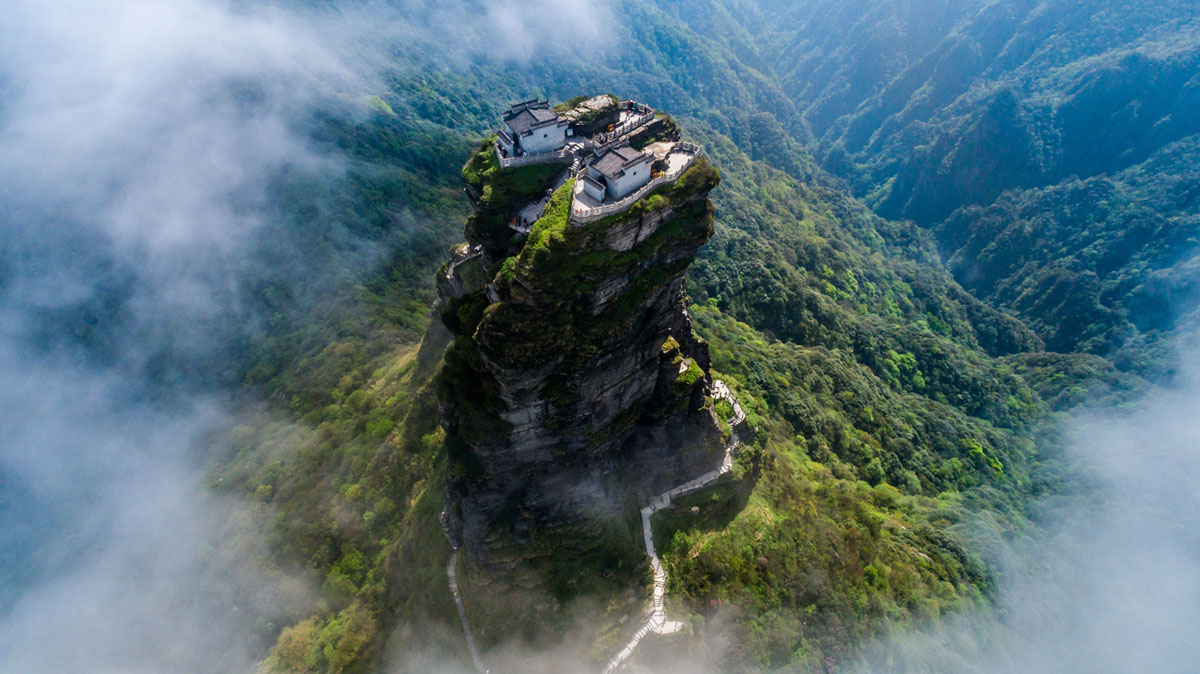 On April 7, 1994, long-standing tensions between Rwanda's majority Hutu population and Tutsi minority erupted into mass slaughter, following the killing of Rwanda's President Juvénal Habyarimana. Over the next 100 days, more than 800,000 Tutsis and moderate Hutus were killed by members of the Hutu majority, in massacres carried out across the country by members of the army, militias, and civilians. Yesterday, a quarter of a century later, Rwandans held memorials in the capital of Kigali and began a 100-day-long period of mourning. As the country continues to find ways to deal with the consequences of the mass violence, one path has led to the creation of six "reconciliation villages" in Rwanda, populated by genocide survivors who live side by side with—and offer forgiveness to—perpetrators who have recently been released from prison, who seek to apologize and atone.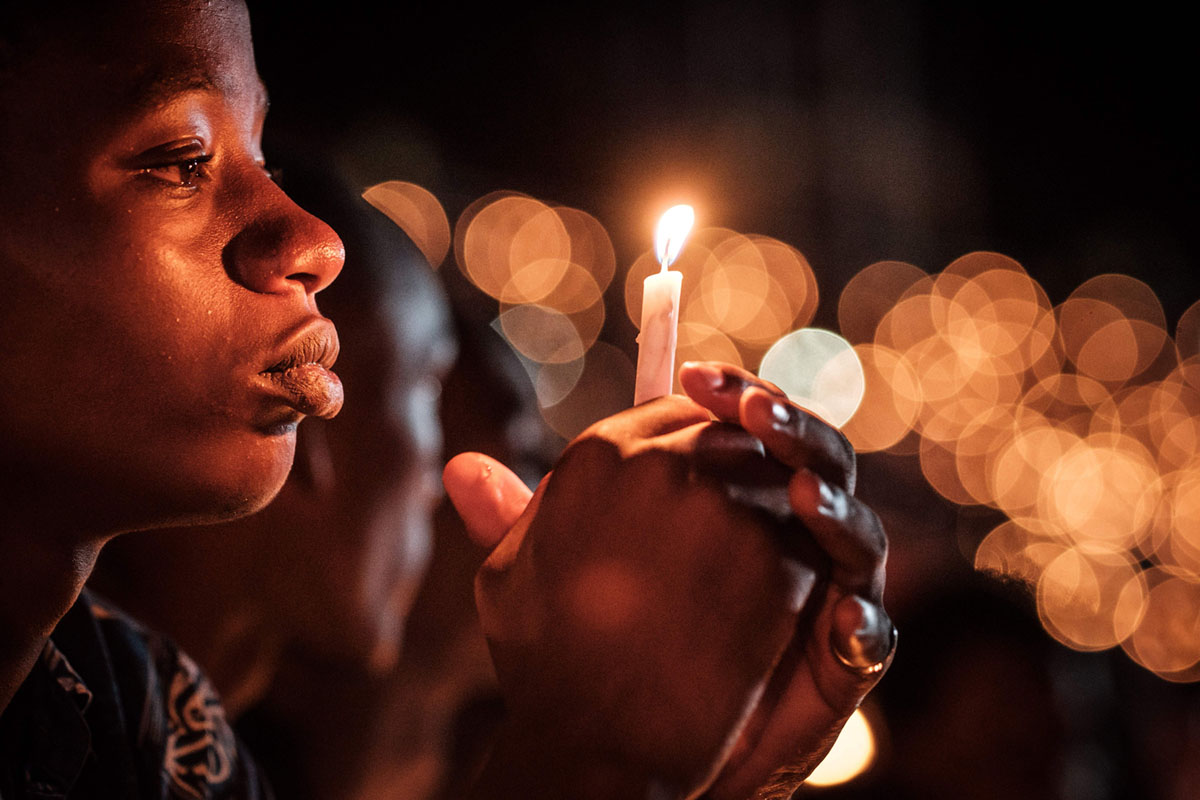 A polar-bear cub in Germany, a "silly walk" parade in Hungary, mail delivery by boat in Germany, presidential campaigning in Texas, a jet suit in New York, a welcoming sea lion in Japan, the Ching Ming Festival in Hong Kong, protests on the U.S.-Mexico border, storm damage in Nepal, water shortages in Venezuela, and much more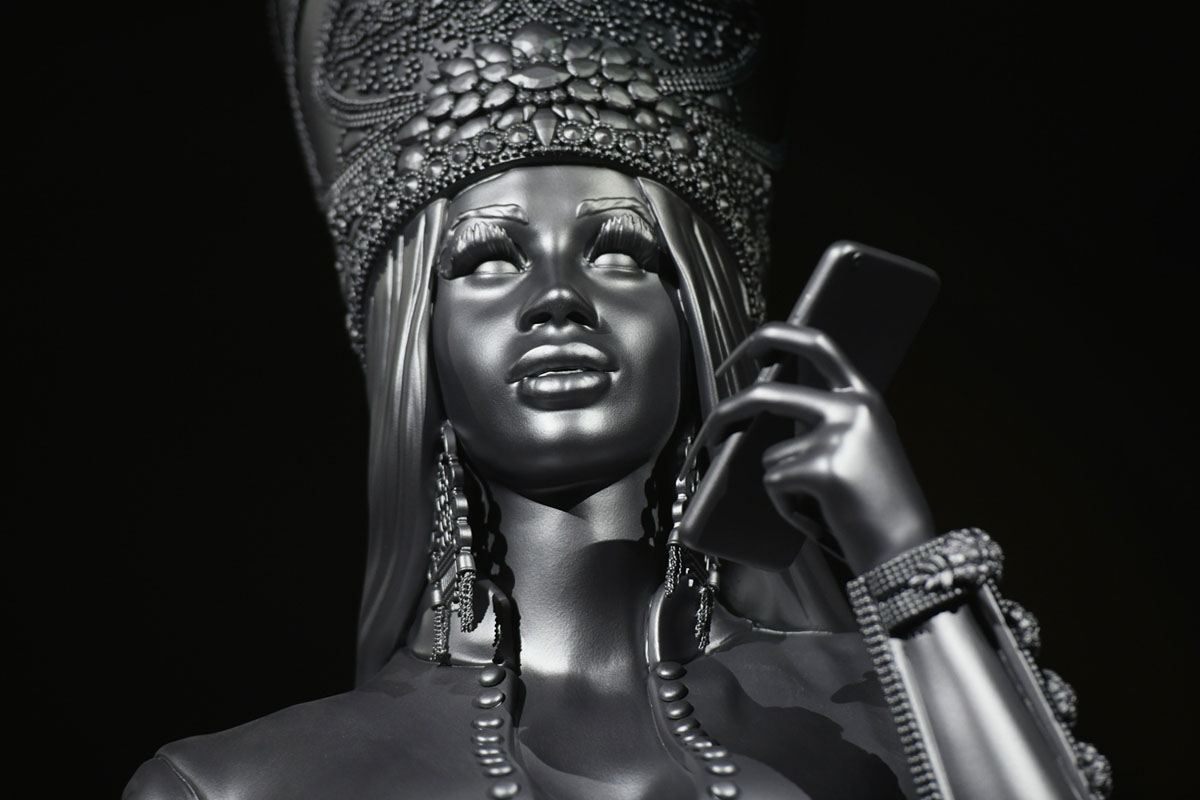 Although salt is abundant here on Earth, it still requires extraction from stone deposits or salty waters. The process of mining that salt can produce interesting landscapes, including deep, stable caverns, multicolored pools of water, and geometric carvings. Some of these locations have even become tourist destinations, serving as concert halls, museums, and health spas. Collected here are images of salt mines and evaporation ponds across the world, above and below ground.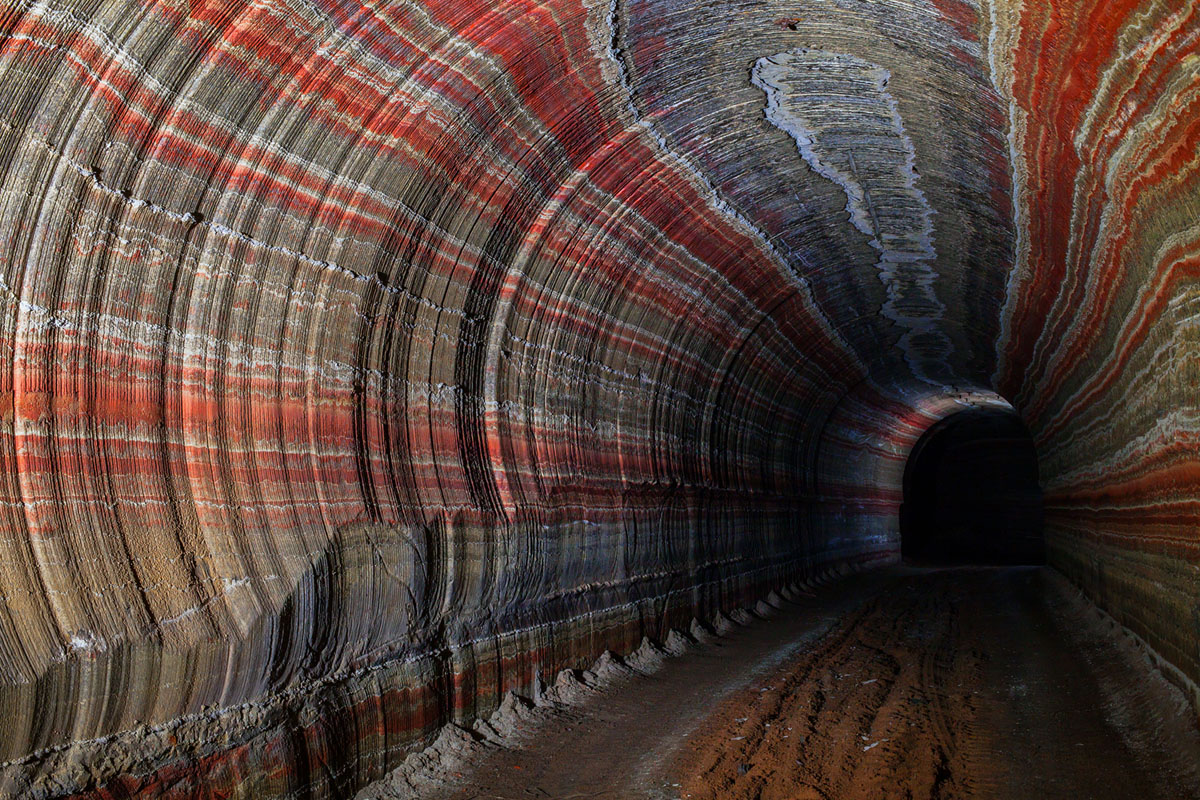 Selected from more than 48,000 entries, the winning photographs from Smithsonian magazine's 16th annual competition have been announced. The Grand Prize winner this year, Newest Cowboy in Town, comes from the Mississippi-based photographer Rory Doyle. Below are the winning images from the following categories: Natural World, The American Experience, Travel, People, Altered Images, and Mobile, as well as the Readers' Choice winner. Captions were written by the photographers.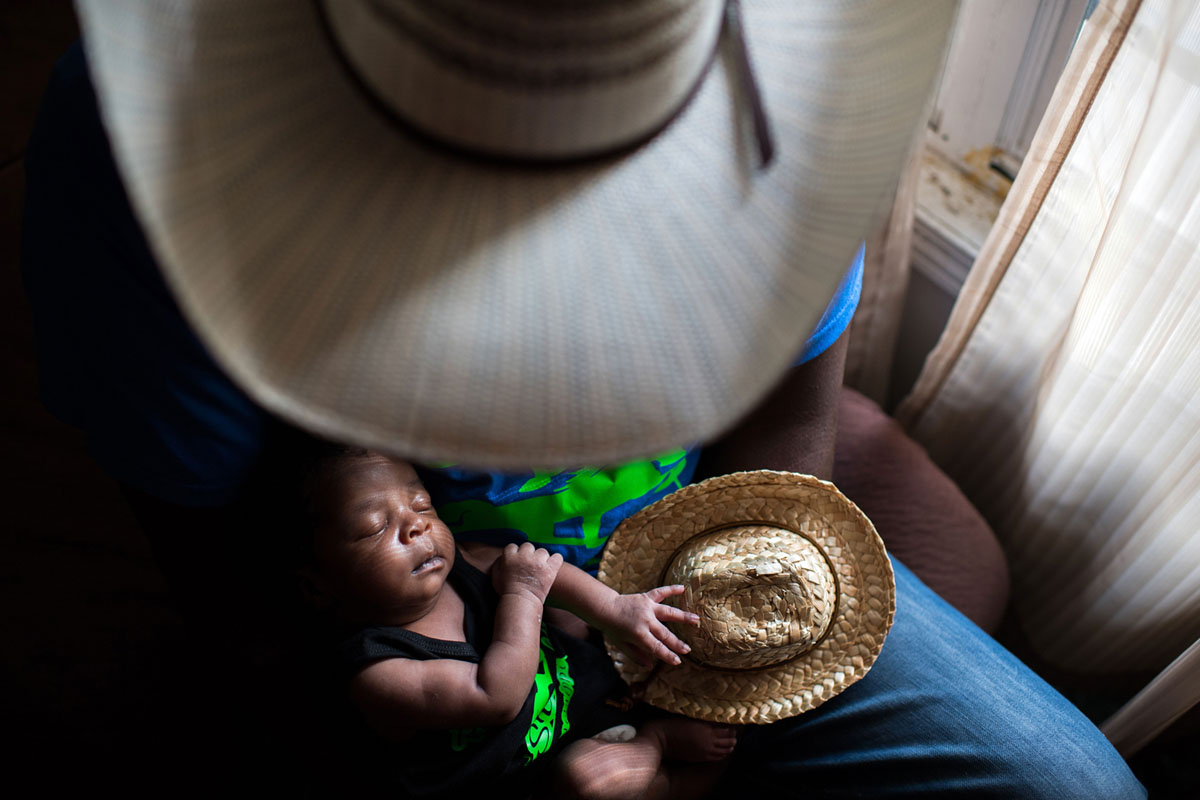 A volcanic eruption in Mexico, a drifting cruise ship off Norway's coast, a skyscraper fire in Bangladesh, "Mausoleum of the Giants" in England, the end of the ISIS "caliphate" in Syria, severe flooding in Mozambique, a festival along the Salton Sea, another crippling blackout in Venezuela, severe flooding in Nebraska, a slimy Chris Pratt in Los Angeles, a Trump rally in Michigan, and much more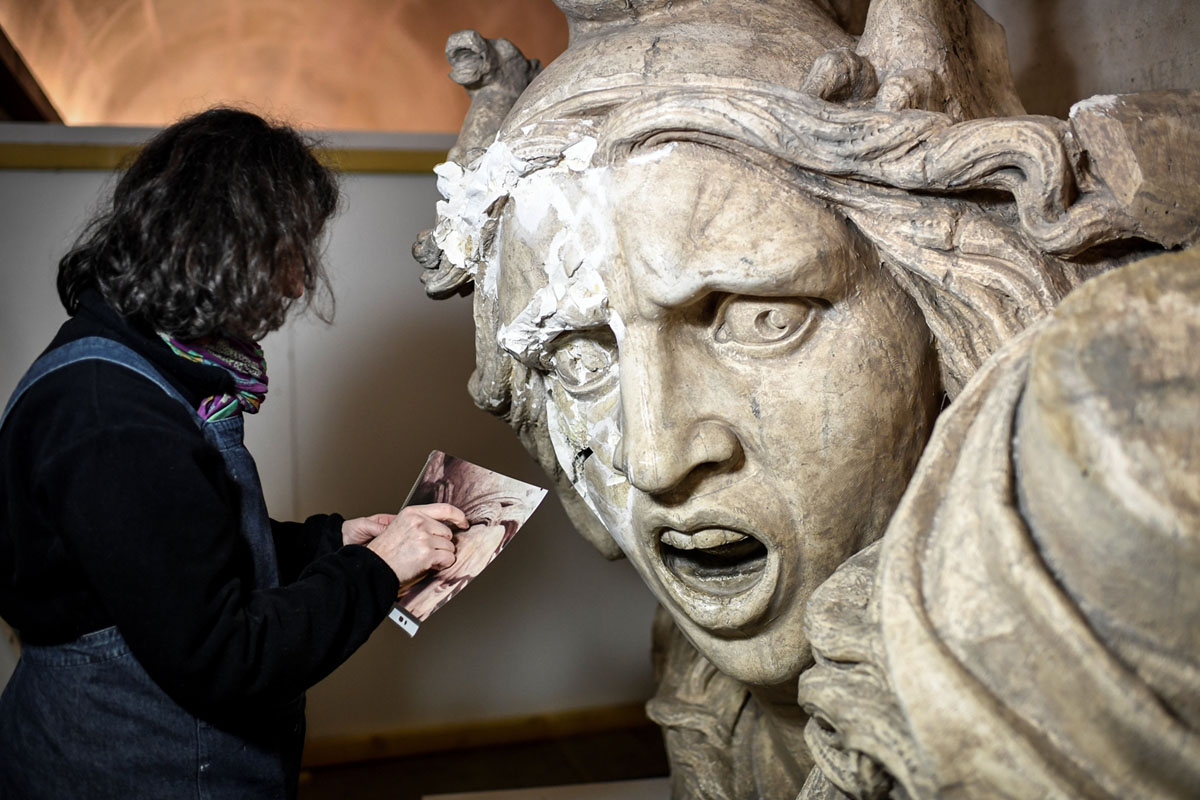 As the Northern Hemisphere begins to warm once more and the spring equinox has passed, flowers and trees finally appear to be in bloom—especially in California, blessed by a very wet winter. Gathered here today is a small collection of images from the past few weeks from North America, Asia, and Europe, of poppies, sunshine, and cherry blossoms—surely signs of warmer days to come.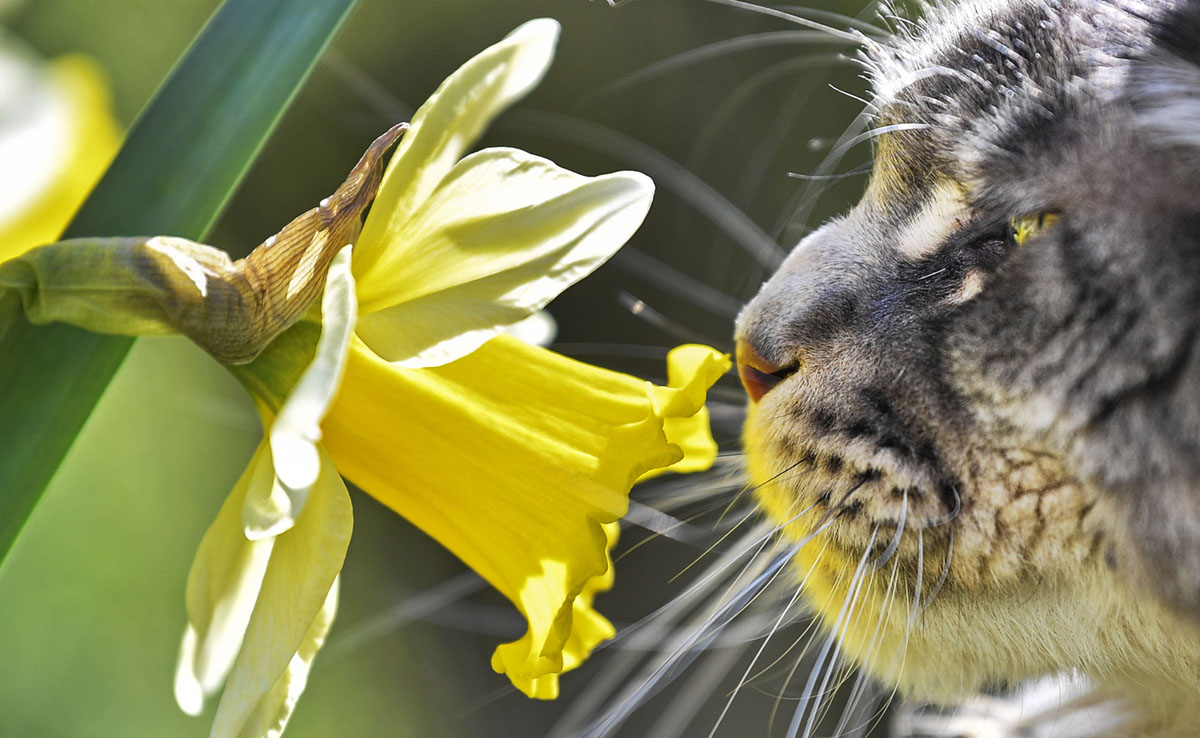 Remember seeing photos of the Harbin International Ice and Snow Sculpture Festival in January—those huge ice sculptures set up in a park, part of an annual festival held in Harbin, northeastern China? Well, when the festival is over and springtime rolls around, those giant ice castles are left to melt and crumble in place, eventually becoming slushy piles cluttered with steel support rods, cables, and electrical wires that once powered colorful night lighting. Earlier this month, the photographer Wang Zhaobo visited Harbin to gather some fascinating aerial images of this ephemeral architecture returning to its liquid state.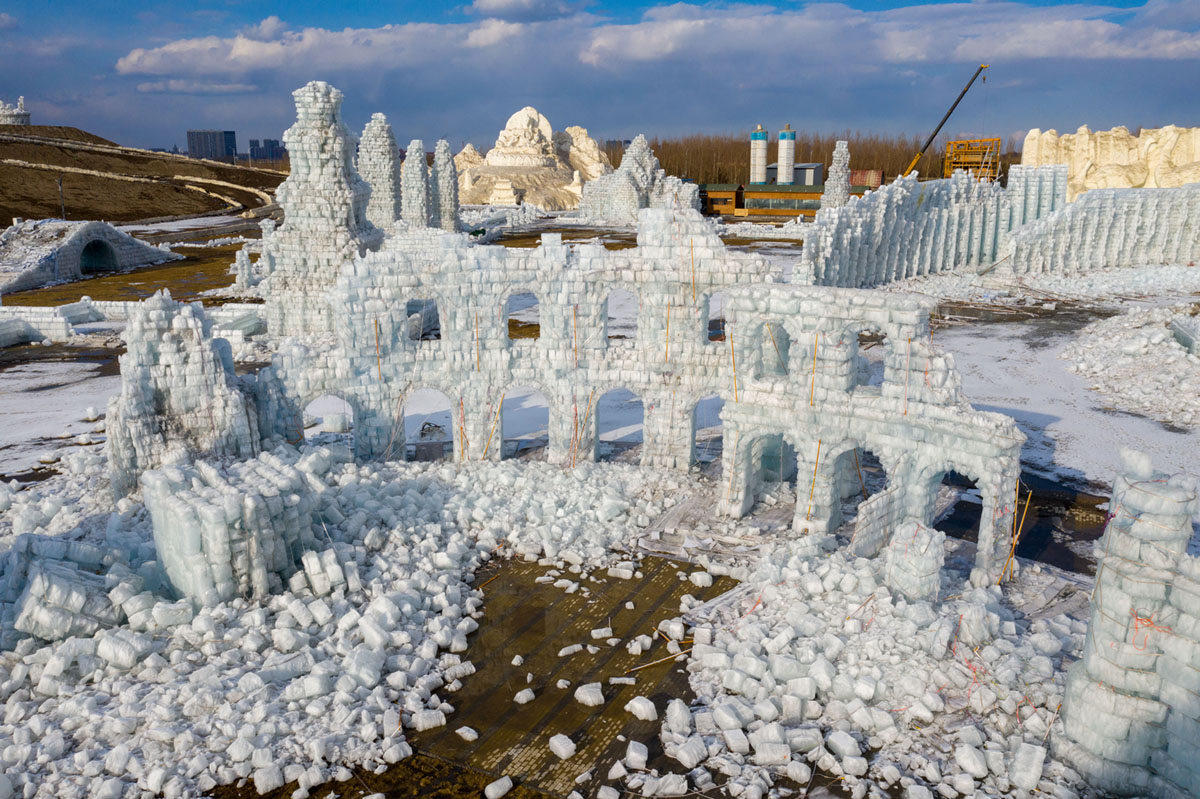 In the commune of Les Baux-de-Provence in southern France sits the Carrières de Lumières, or Quarries of Lights. A former limestone quarry that closed down in the 1930s, the site has been transformed into an immersive multimedia exhibit space dedicated to art and music. Projectors mounted around the quarry paint the walls, ceiling, and floors with light, bringing both still and animated images of artwork to life across the entire space. Gathered here are images from recent exhibitions, featuring artwork from van Gogh, Klimt, da Vinci, and many other artists.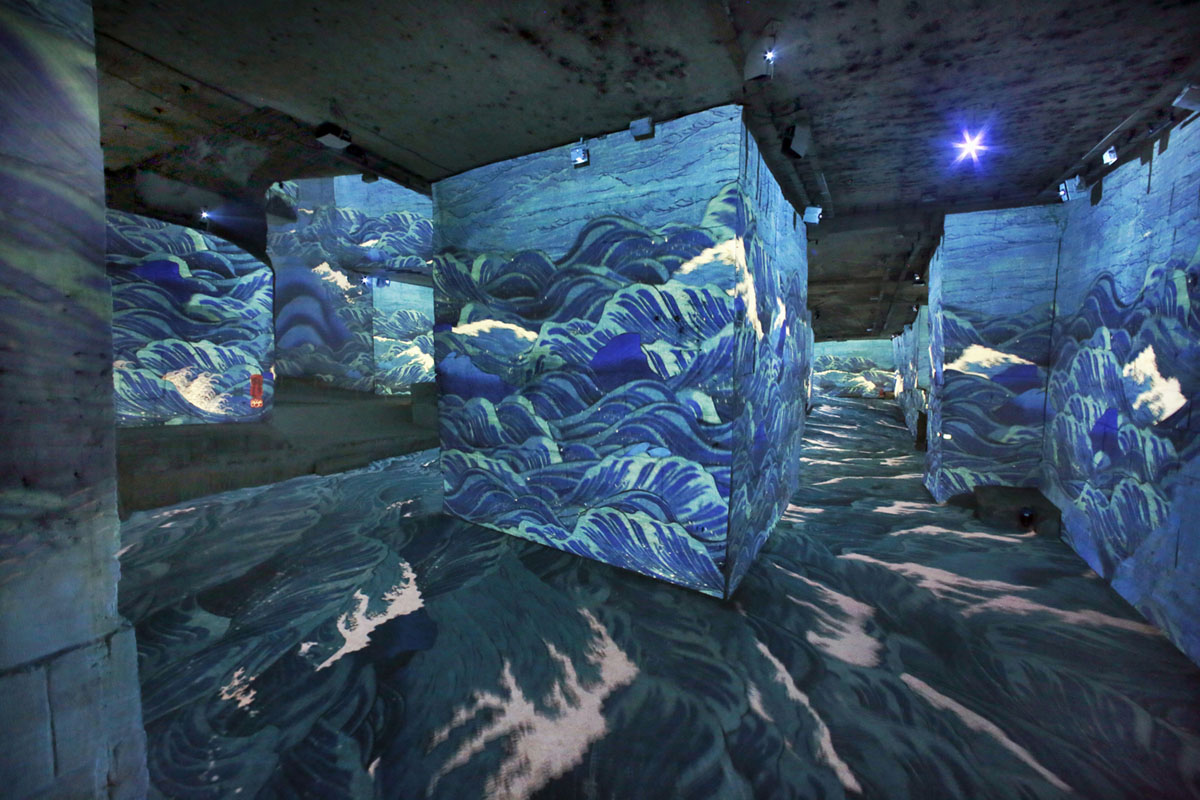 Ten days ago, Cyclone Idai, one of the most devastating storms to hit Africa in decades, made landfall in Mozambique with sustained winds of 120 mph (195 kph), damaging or destroying thousands of structures. The tropical storm then moved inland, bringing heavy rain and flooding to more parts of Mozambique, Zimbabwe, and Malawi. More than 750 deaths are attributed to Idai so far, while thousands remain stranded in remote rural areas. International aid is starting to reach the region, while workers struggle to repair roads, restore power, and care for the survivors—with special attention toward preventing cholera outbreaks.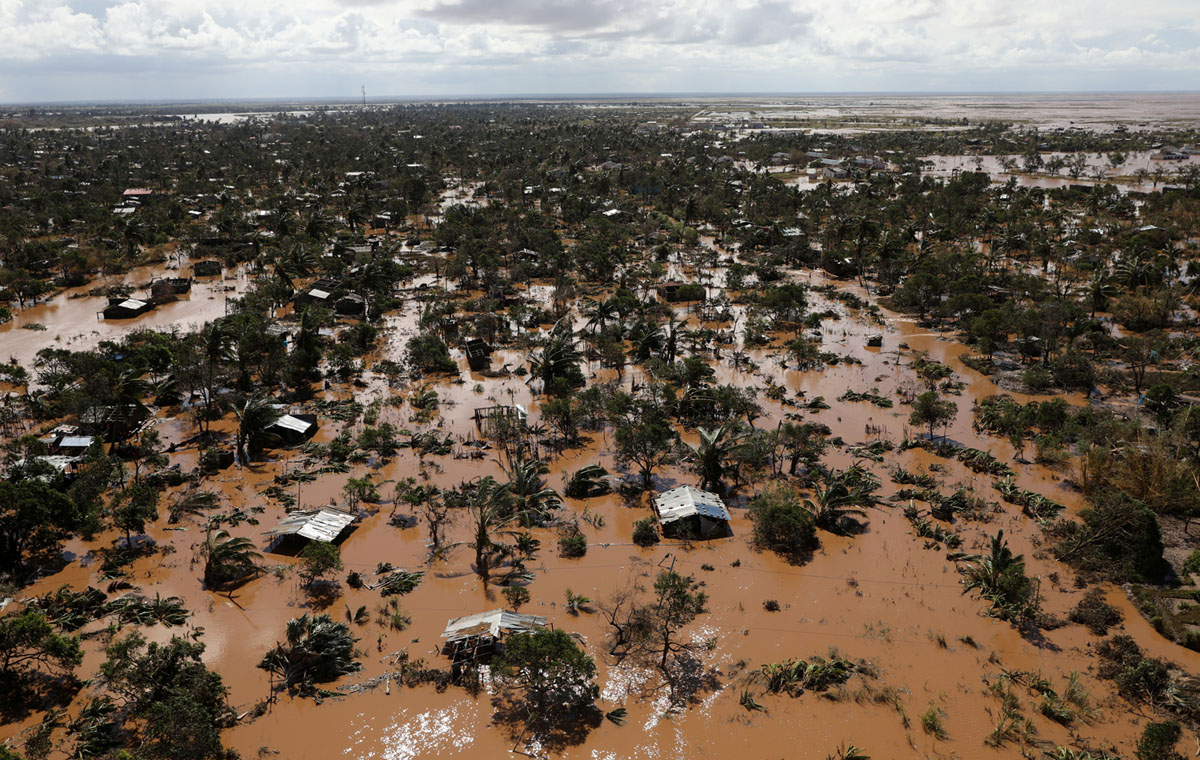 Today, March 23, has been set aside as National Puppy Day—founded in 2006 by the author Colleen Paige, and adopted by other groups and organizations since. The idea is to focus attention on puppies in need of adoption and the abuses found in puppy mills, but also to celebrate these furry little companions. In the spirit of the day, I am once more obligated to share some adorable images of pups around the world.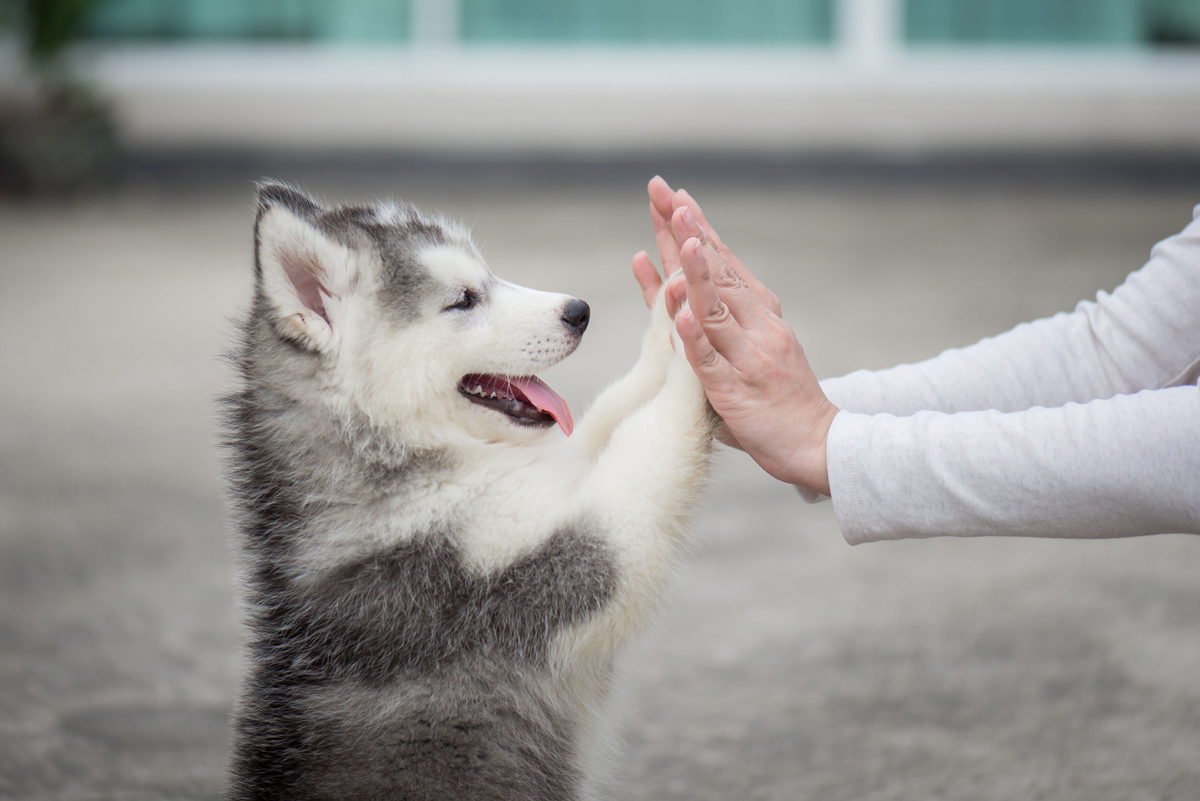 Nowruz celebrations in Iraq, a closed penal colony in Mexico, terrible flooding in Mozambique, the Paris-Nice cycling race in the Alps, springtime in China and England, St. Patrick's Day in Chicago and Ireland, mourning in New Zealand, flower fields in California, floodwaters across the midwestern U.S., the Red Hot Chili Peppers at the pyramids of Giza, and much more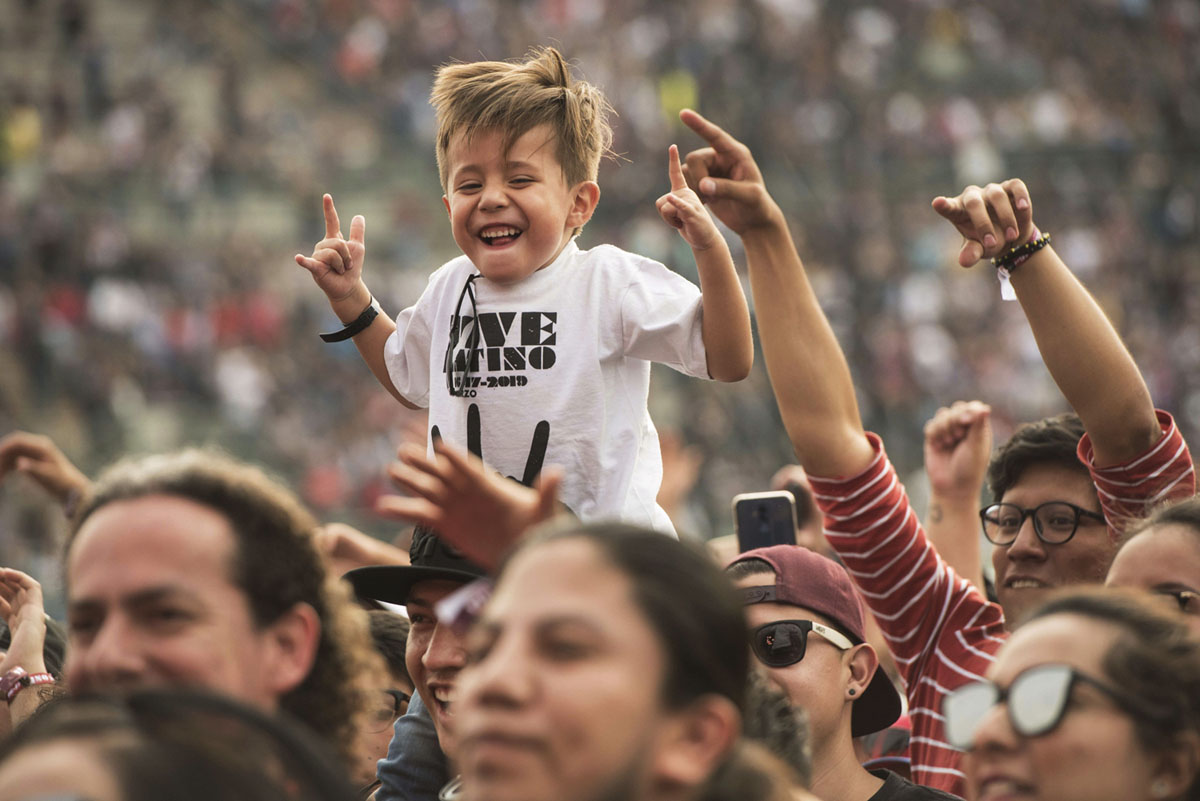 Days after the worst mass shooting in New Zealand's history, residents of Christchurch gathered at memorial sites that grew outside mosques and churches, bringing flowers, candles, and messages of sorrow and love. As people mourn the 50 killed last Friday, New Zealand Prime Minister Jacinda Ardern is calling for stricter national gun laws, and says she will seek answers from social-media companies about the live-streaming and dissemination of video of the attack. Gathered below, images from Christchurch over the past few days.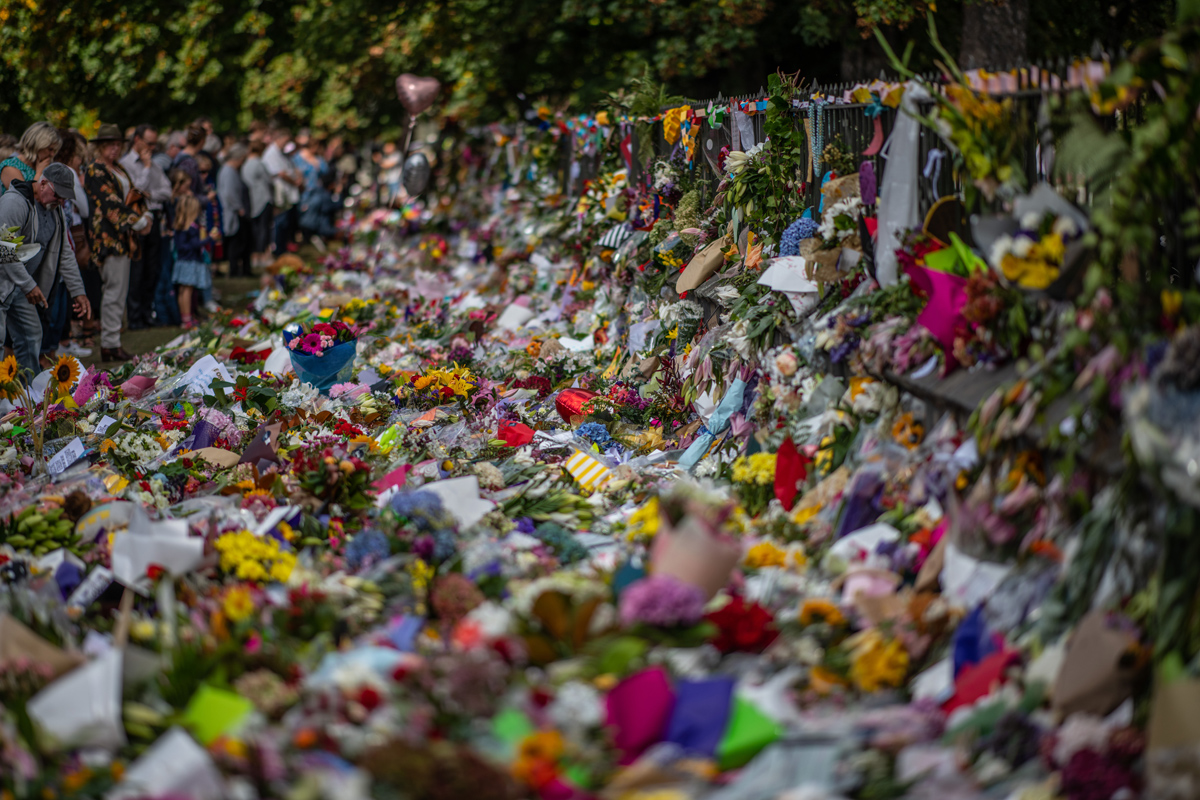 At least three people are confirmed to have lost their lives so far amid record-setting floods affecting parts of Nebraska, Iowa, Missouri, and other nearby states. Thousands of people have been asked to evacuate, and many have been away from their homes for days in hard-hit Nebraska, following last week's "bomb cyclone" weather system that dropped huge amounts of precipitation—adding to existing troubles from heavy snowmelt and ice-choked rivers. Dams and levees were overwhelmed, roads have been washed away, and some neighborhoods, farms, and military bases now sit in water up to eight feet deep. Some of the rivers in eastern Nebraska are beginning to recede, and others are expected to crest within 24 hours. Areas downstream, along the Mississippi River Valley, are preparing for likely flooding.